Did you know that application for the 2021 Teach For Nigeria Fellowship has now been extended to June 2021? You still can apply to become a Teach For Nigeria Fellow.
As a Fellow, you would lead learning in your classroom, set targets and work towards ambitious goals that will put your students on a different life path. This experience does not only develop your leadership skills but also gives you firsthand exposure to the educational crisis in the country.
During your Fellowship year, you will initiate social innovative projects by designing and implementing a solution to a problem identified as the limiting factor to educational equity in your placement school or community. One of such innovative projects, led by a 2017 Fellow Folashade Babatunde, now alumna, is Waste for Meals. Waste for Meals Initiative is a social impact project that focuses on improving children's nutrition, health, and learning while promoting a cleaner environment. The project aims towards achieving these goals by organising school food programmes that provide primary school pupils in low-income communities access to food packs containing locally sourced food items in exchange for recyclable waste such as used PET bottles.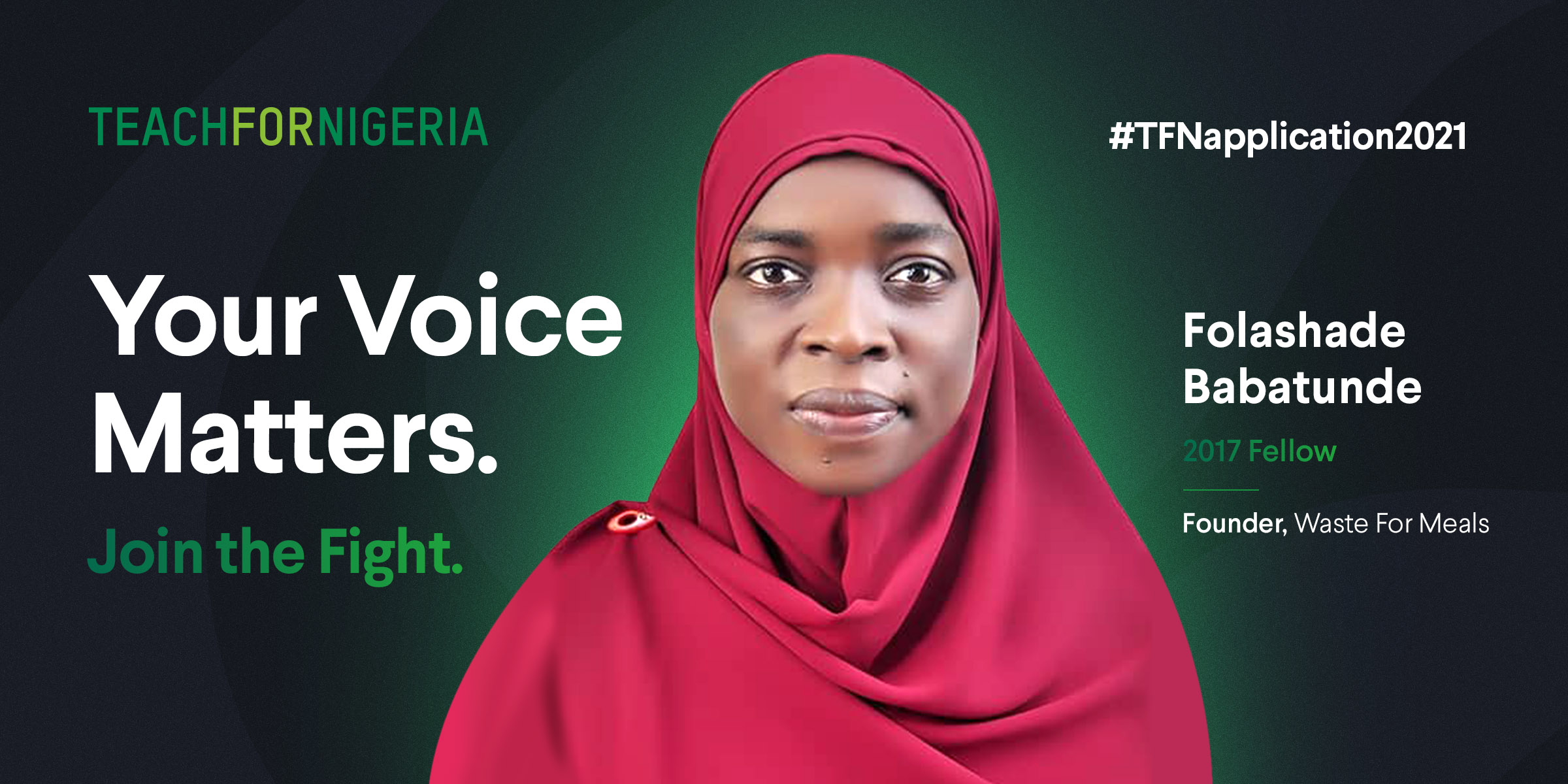 To fund the project, Waste for Meals is running a waste donation campaign that allows individuals, schools, and other corporate organisations to support its work by donating their recyclable wastes such as plastics, cans, metals, office paper and carton wastes. In addition to the school food programme, the team launched Waste for Meals School Club to educate children about nutrition, health, and waste recycling This empowers them to contribute to the attainment of the Sustainable Development Goals.
So far, Waste for Meals has three partner schools in Lagos and Ogun, two waste collection centres and more than sixty student-beneficiaries. They have distributed over hundred food packs and saved one thousand, one hundred and sixteen kilograms of waste from the environment.
The opportunity to join the Teach For Nigeria fellowship, and make a significant impact like Folashade and her team are doing is here.
Send in your application on or before June 19, 2021. To apply, please visit www.teachfornigeria.org/apply.